Working as a UX/UI designer for almost three years, in November 2020, I felt it was finally time to get my first official UX certificate. After a little bit of research, I chose the certification program from the Nielsen Norman Group. Since my experience was quite positive, and there aren't many reviews on the virtual version of the NN/g conference, I decided to share my thoughts and impressions with you, so keep reading!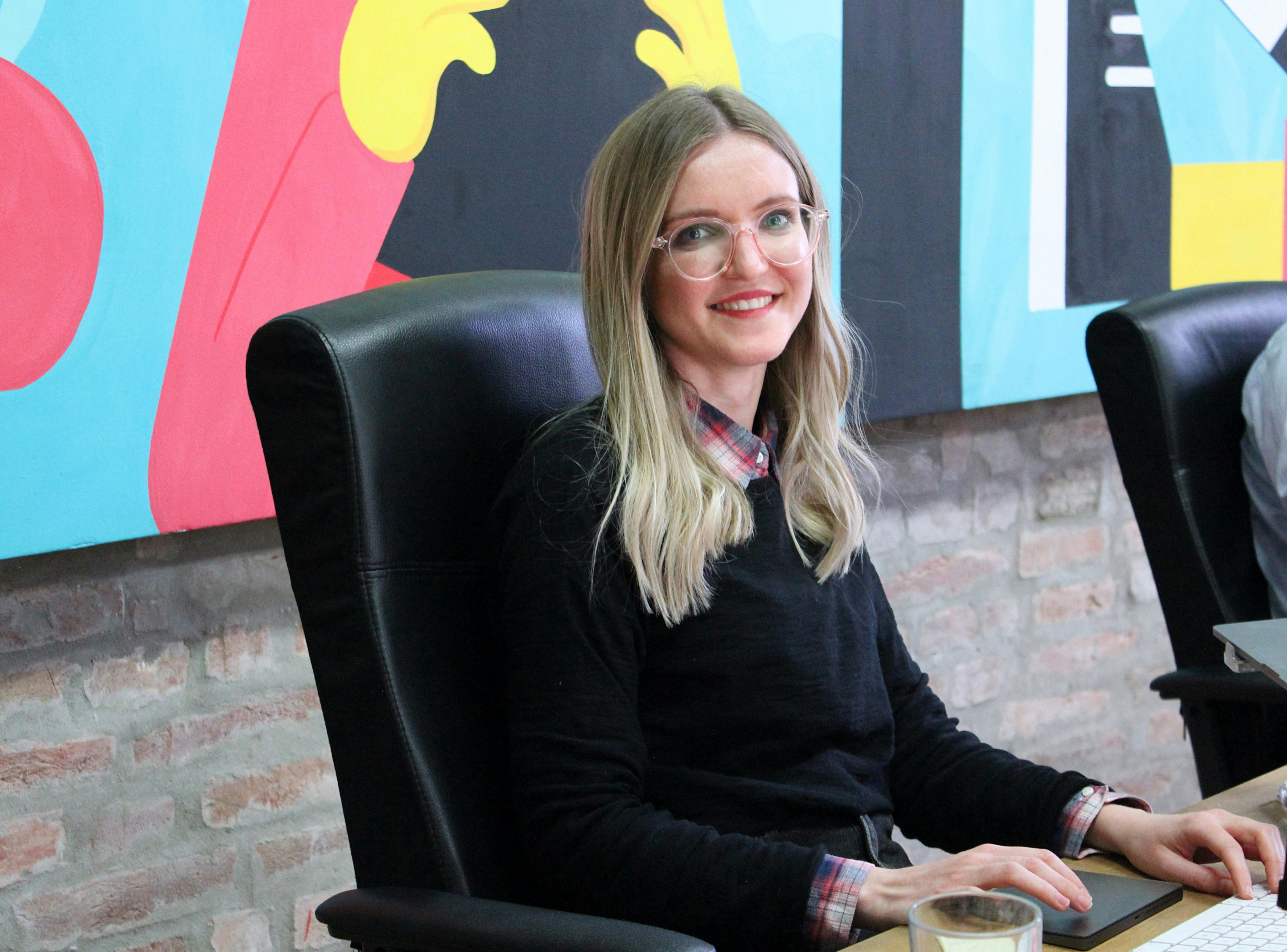 NN/g Conference?
In case you aren't familiar with it already, the NN/g conference is a UX conference targeted to all UX professionals and beginners who want to expand their knowledge. The conference is organized by the Nielsen Norman Group multiple times per year. It's a famous research and consulting company, named after its founders, who are considered UX pioneers. 
NNG folks often share their insights and research findings in blog posts, podcasts, and youtube videos. But most importantly, they organize these UX conferences and offer certifications. Seeing how well-known they are in the community, I decided to go with their certification program. The conference used to be organized in several cities worldwide, but as of 2020 and COVID, they run it only online instead.
How does it work and how much money does it cost?
Basic and Master Certification
Not all courses have to be taken during the same conference as the credits don't expire. For example, you can take 2 courses at the conference in March, then another 3 in the following month and still get your certificate. All the information is in your NN/g account, and every new course gets added to your existing credit score. That way, you gradually build up towards your desired certificate.
Exams
Besides being present at the classes, you will have to pass the corresponding exams to earn credits. The exams are multiple-choice, and the participants are allowed three attempts. Don't worry! You can use all of the NN/g materials as a reference. The questions are not super easy, but if you've paid attention in classes and read every question carefully, it shouldn't be too hard to pass. I strongly recommend you to take the exams shortly after the courses, while everything is still fresh. Read through the course materials once or twice before the exam as well. 


Specialty Recognitions
The specialty recognitions are available in:
Interaction Design
Research
UX Management 
If you take five courses in any of these categories, along with a certificate, you will get a specialty recognition for your chosen category. For example, all my courses were about Interaction Design. So not only did I get a certificate from these courses but a specialty recognition too. Sounds quite posh, right?


The Price to Pay...
One of the main reasons people hesitate to get certificates, especially this one, is the price. And, trust me, it's not cheap at all. One course can cost from around 660 to 980 US dollars. The price depends on how early you apply and how many courses you buy at once. On top of that, there is also an exam fee of 80 dollars per exam. For an individual, it's a lot of money. That's why it would be nice if your company could cover the costs. After all, the conference will not only benefit you but the entire business. My company paid for my certification, and it was like that for most of the attendees.

What kind of courses do they offer? How long are they?

There are various courses to choose from - more than 20 for a single conference. Some of them are general and beginner-friendly. Others are more specific and advanced. For example, you can choose Interaction Design, Research, or/and UX Management, depending on what part of the UX field interests you most. Based on the model you choose, the class lasts either 6 or 3 hours per day with short breaks in between. As I am working full time, it was more convenient to go with the two-day model. The model and courses' schedules change every month, so before booking, check what time works best for you and your schedule. 
To get an idea of the topics, here are the courses I took:
→ UX Basic Training (by Katie Sherwin)
→ Designing Complex Apps for Specialized Domains  (by Kate Kaplan)
→ Application Design for Web and Desktop  (by Page Laubheimer)
→ Information Architecture  (by Page Laubheimer)
→ Emerging Patterns in Interface Design (by Katie Sherwin)
So, what did the virtual courses look like?

Well, first of all, the conference, even though it's virtual, still has an opening ceremony. At ours, one of the founders gave an inspiring keynote, sharing the ideas of what the future of UX might look like. It was a nice touch and motivated me even more for the upcoming courses.
Once you apply for the conference, you can find all your credit information, conference schedule, exam results, courses feedback forms and all-important links on your NN/g profile dashboard. It comes very much in handy during the conference.
Virtual course setup:
Zoom - classes and presentation, breakout rooms 
Google Drive - practical class materials
Slack - class networking 
The classes are held live via Zoom and work pretty seamlessly. There are about 60 participants per course. Camera usage is recommended but not at all required. Each class covers the main topic in detail with both theoretical knowledge and practical examples. Zoom polls and chat keep the engagement level pretty high. Although the presenters have predefined materials to go through, they don't hesitate to answer each of our questions.
The classes are not at all one-sided, which I appreciate. Sometimes it happens you stay after the class to continue the discussion - it's that interesting!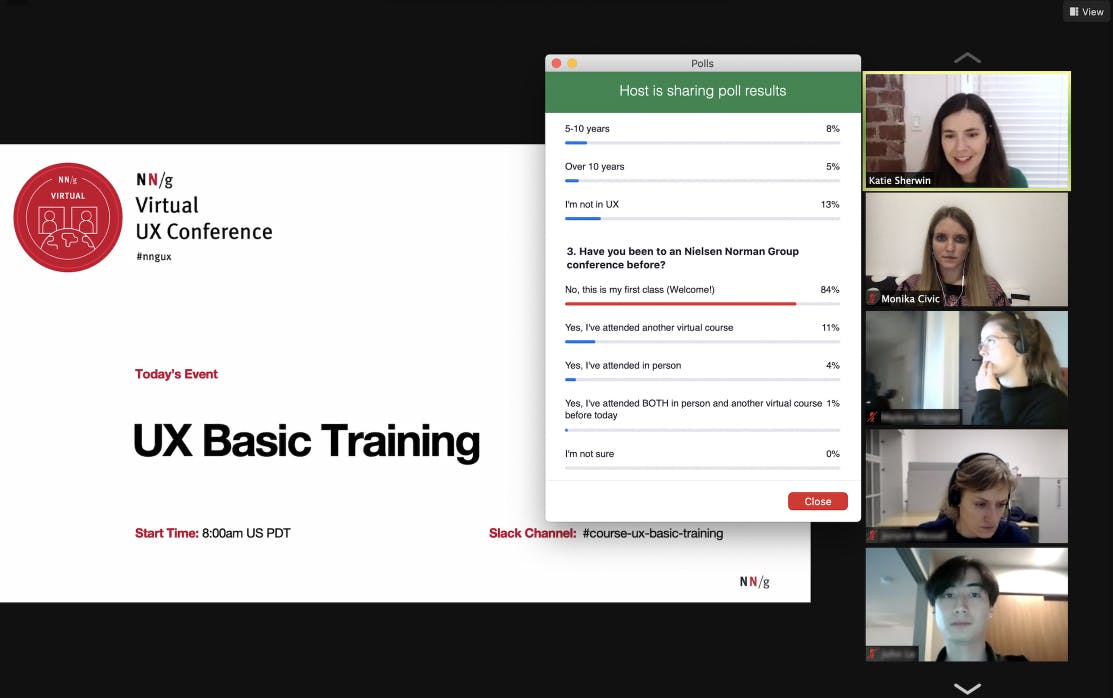 Since the conference is entirely virtual, you might think there wouldn't be any real possibility of networking, but there is. Each class has a couple of breakout room sessions intended for meeting other participants, solving practical tasks, and working together. If you're not into meeting other people, that's also fine. You don't have to participate in breakout sessions, it's not obligatory. There are also dedicated Slack channels for you to stay in touch with your new colleagues, even after the conference.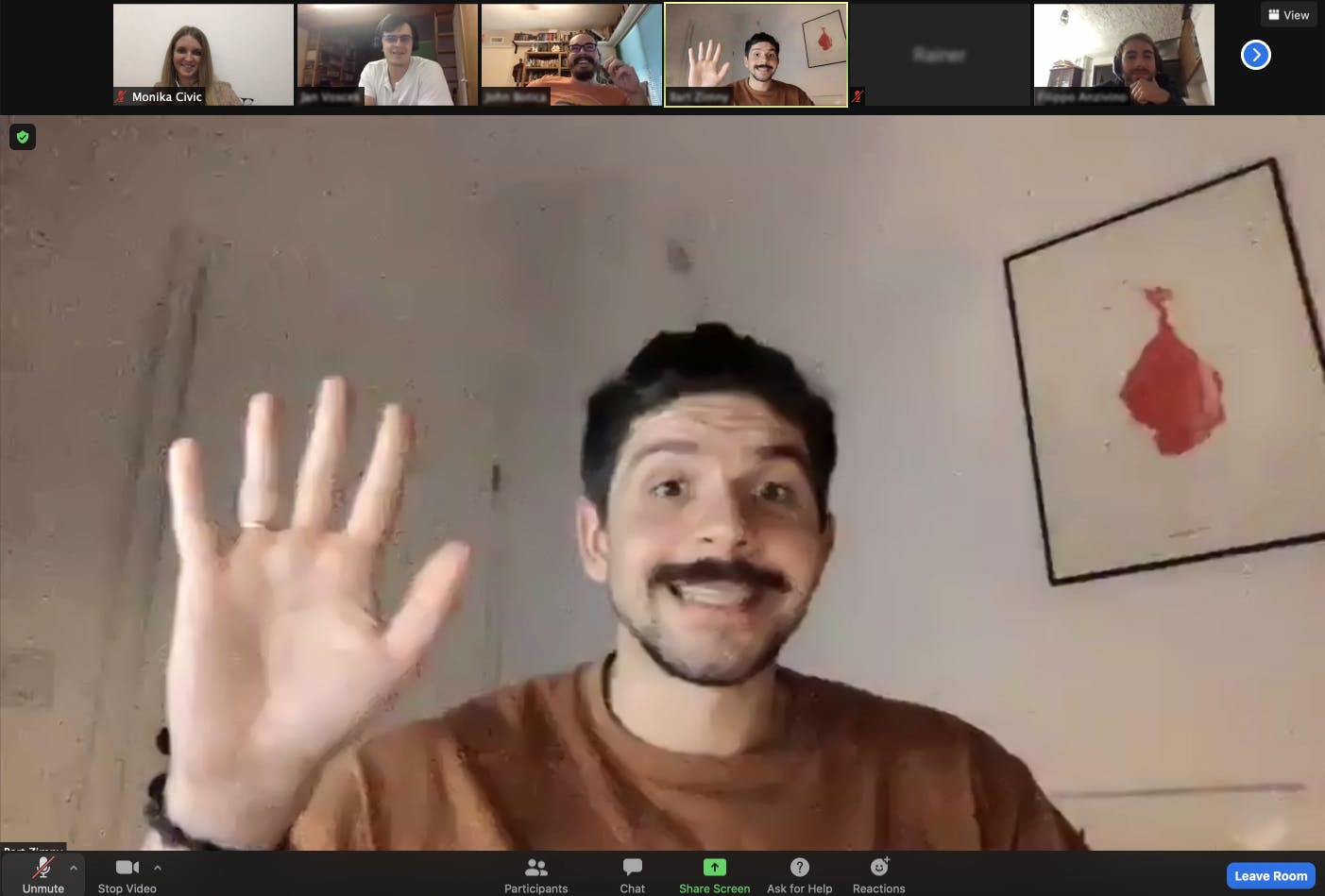 What did I gain from this course/certification/experience?
After reading everything so far, you might ask me questions like: Are you a better designer now?;  Was it worth the money?; Would you recommend it? ; Will you attend again?.  
Unfortunately, there are no simple answers to any of those. If you thought I'd tell you I now have a secret formula for good product design, I don't - but I didn't expect to get it. What I did gain was a different perspective on certain UX doubts in my everyday work. I got well reminded of what this profession is all about, and that's the user - working on so many different projects sometimes makes you lose that focus.
Since the courses are based on NN/g's many years of research, they've shown great quality. The practical tips we got were really helpful and I'm already applying many of them in my ongoing projects. I gained more confidence in the skills I already have and in the things I'm doing right. Also, I realized what I need to work more on and which bad practices to avoid. It was encouraging to see how many people have the same questions and make similar decisions as I do. 
To summarize…
Thumbs up for:
excellent organization and customer support
quality and proofed class materials based on actual research and insights that you get to keep after the conference
practical tips and tricks in the interaction design classes
virtual networking opportunities, insights, and knowledge sharing
experienced and helpful lecturers, well familiar with the topic 
acknowledged and well-recognized certificate as an addition to your resume
no additional transport and accommodation costs (since it was held online)
Keep in mind:
pretty high price per course
the intense conference schedule, especially for people working full-time along with attending the conference
if you will not apply the knowledge and dive deeper into the topics on your own, the certificate won't mean much because the class materials give the direction, it's up to you then to investigate more and apply the knowledge
you might have to wait a couple of months until the conference schedule works well for your time zone
So, if you have the assets to get this certification, go ahead! You won't regret it. However, if the price is still a bit too high, I am sure you can find something with similar programs and insights just as good that will work for you. Who knows, maybe someday we meet at one of those. Good luck!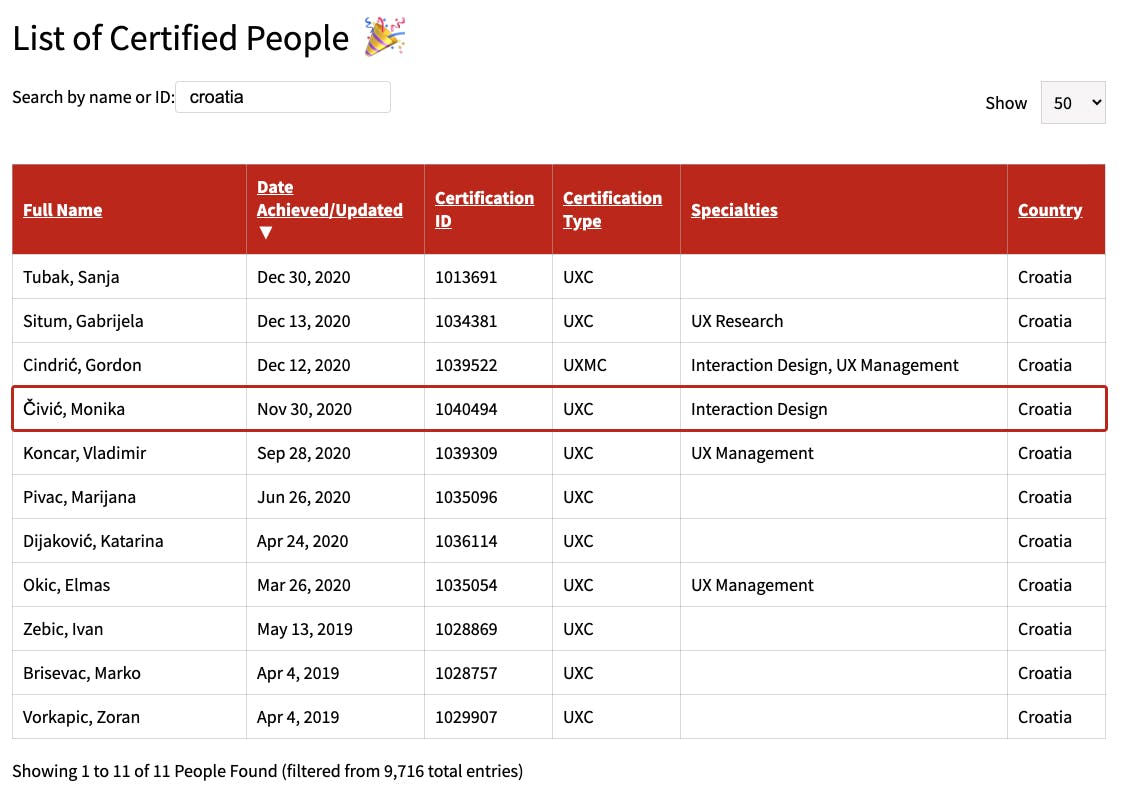 Yay! That's' me on the list.