June 15th, early morning at our COBE Office. 
After a two month lockdown, everyone's back to work and in for a big surprise. The white canvas that's overlooking the whole office magically transformed into a colorful mural, expressing one of COBE's main core values - teamwork. 
The idea for the mural came to us a few months back, but once everyone started to work from home, we decided to turn that idea into reality. The main goal was to finish it by the time quarantine was over.


The four-week transformation consisted of drawing sketches on an iPad, transferring those sketches onto the canvas, mixing 50 shades of red, turquoise and yellow, and then transferring those colors onto the canvas. But it all paid off in the end because our COBE vision came to life.


How it all began
''Illustration allows you to create a world as the brand sees it".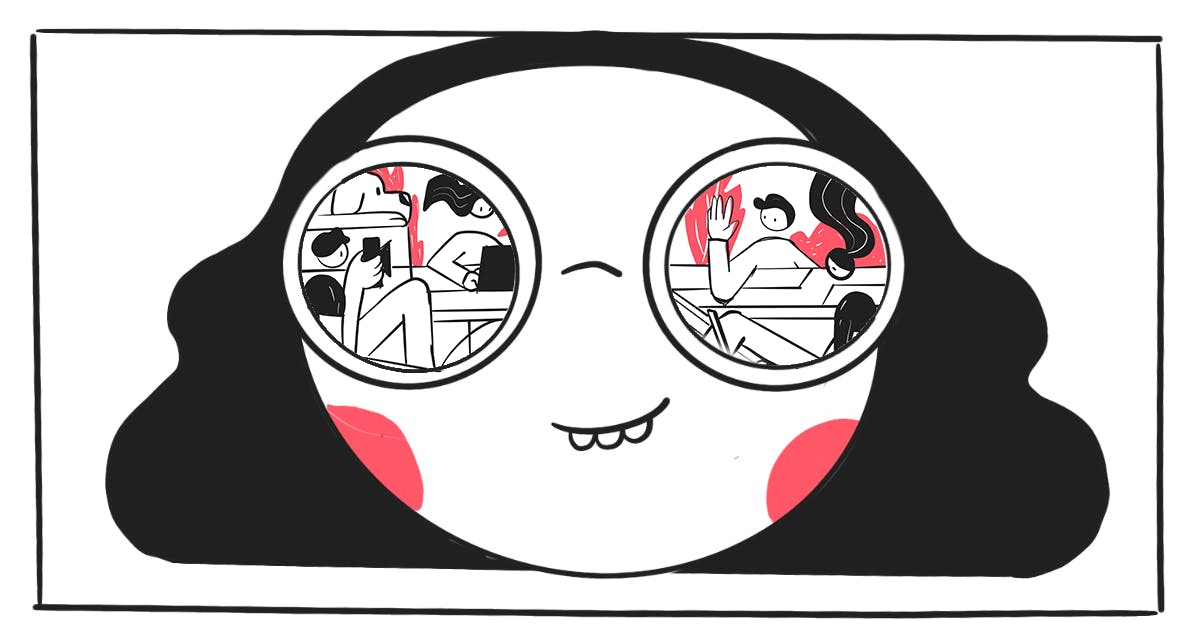 Before we start to talk about the process, let's rewind a couple of months back. 
For those who don't know, we work in an open space office, and since the beginning of time, the wall that's overlooking our office has a giant, white canvas attached to it. We covered it up from time to time, but always had bigger plans for it. Fast forward to March this year, when we decided to make a mural out of it. It was the perfect timing too, considering everyone just started working from home. Plus, we had the right person to do it - Darija, our UX/UI designer with a passion for illustrating.


The process 

First, we sat down to discuss our brand, ideas, and everything we want the mural to portray. Then, we developed the story we want to tell. And honestly, Darija couldn't be happier that one of her first projects for COBE, was to paint the biggest mural she had ever done:
Having in mind that the illustration will portray the visual story of our brand and company culture, but also create a picture of the way COBE sees the world, I created three different interpretations to our story. With each interpretation, I tried to capture different aspects of COBE's company culture. Then I translated those aspects into basic sketches and combined them with our color pallet (mixed with some soothing nature tones).
All three versions were so good we wanted to move to a bigger office where we could put them all up. But then we started thinking rationally again and decided on the playful Teamwork scene. At least for now. 😅
As being a team player is one of our core values, it seemed like the most logical option to go with:
Following our recently developed visual style, the illustration contained six characters. Each character was provided with a small glance of personality that caught my eye from our team. From fun and playful to dedicated and focused moments, I combined it all in one scene that tells the story of COBE.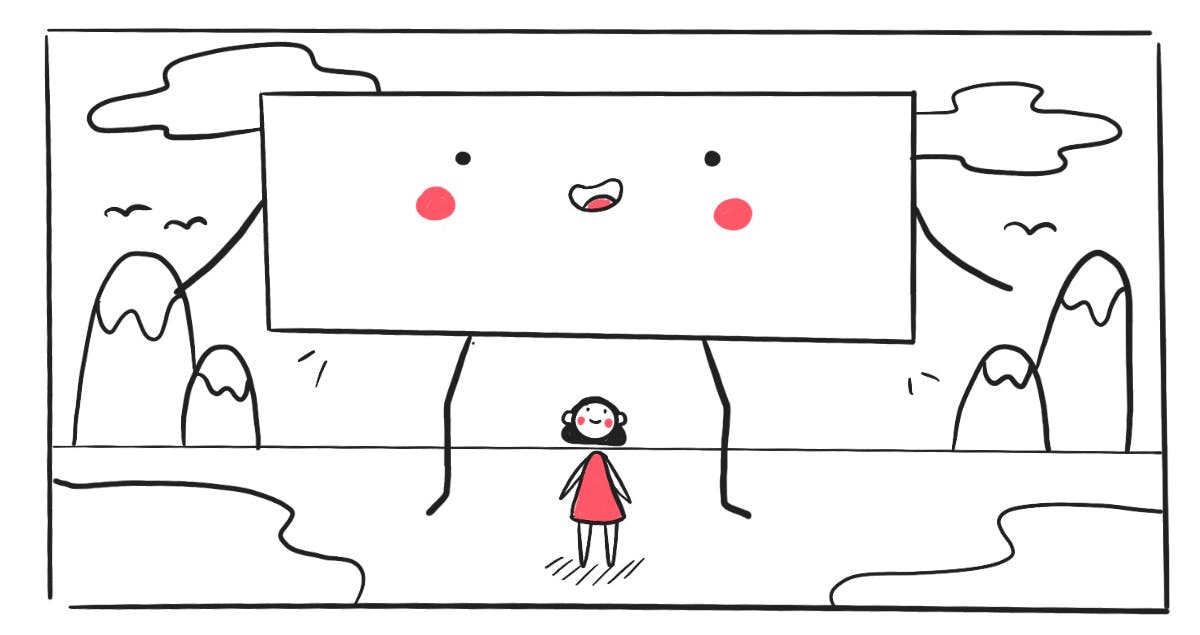 Darija and the Canvas
After figuring out every little detail, Darija could finally start the magical process of painting the mural:
Since I'm pretty much old school and like to do everything by hand, the first thing I did is I measured and created a base grid on the canvas. That helped me a lot since the canvas is giant and I'm one tiny artist 🧚‍♀️. 
Next was the long, long process of transferring the sketch onto the canvas - of course by hand, following the grid. This was the part of the process when I was able to add a sparkle of details 🧙‍♀️ to the illustration. After the sketch was all set up, began the most fun part of the process - bringing life to the illustration, a.k.a. adding color. Picture yourself 50 shades of turquoise, red, yellow, a magic wand in my hand, music playing in the background, and just me on a ladder. Ahh, fun times!


Or just take a look at the pics: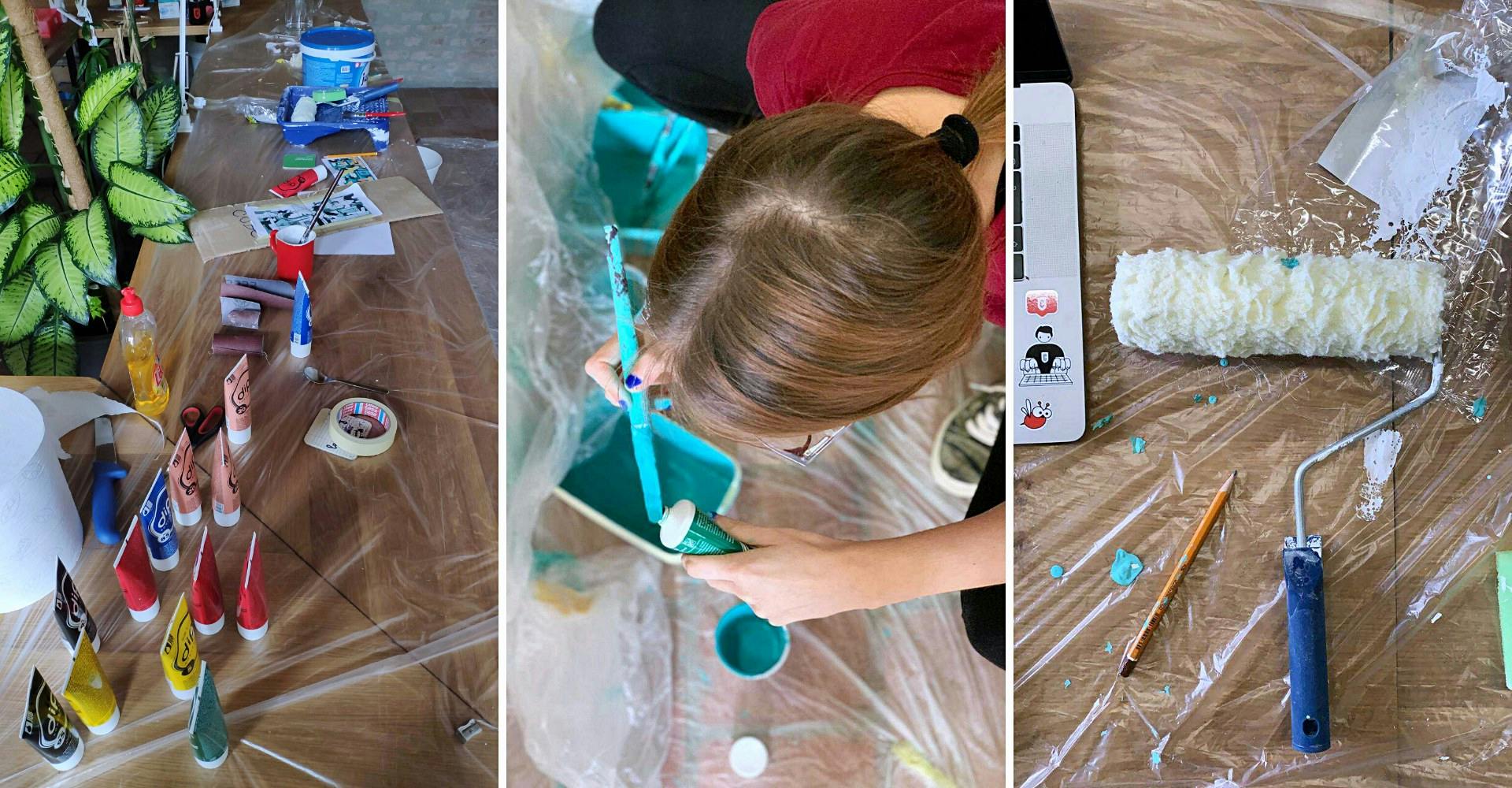 A creative mess by Darija


There were quiet, relaxing days, listening to Black Pumas, singing and painting, as well as some more adventurous ones:
Imagine me, at 150 cm tall, trying to reach the corner of a 250x580 cm canvas. Luckily, everything worked out great in the end. Not one leg was broken that whole time. #Success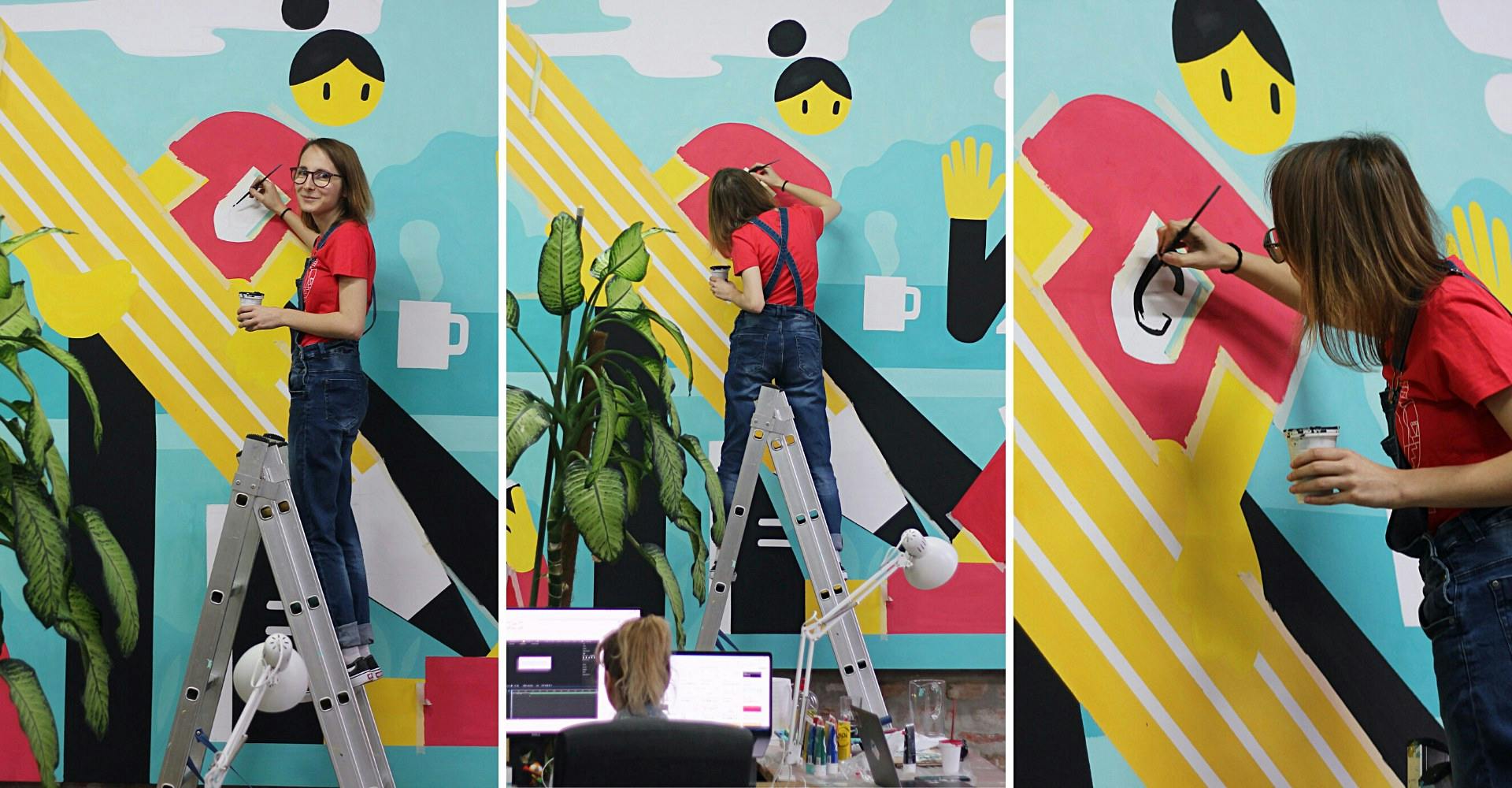 *Not exaggerating when she said she was a tiny artist*



The Big Reveal
Only a few of us were involved in the process of creating the mural, so you can imagine how everyone else reacted when they got back to the office. But honestly, seeing the mural in person for the first time felt like a big surprise for us too. It's one thing to see it on your MacBook, and a whole other to see it in person:   
Everything paid off when I saw my team's reactions and how much they love the mural. I already loved our office, but now, I feel it brings even more personality to it and it definitely lights up the room! 
Even video calls with partners and clients are different now, everyone's instant reaction is "Wow". Plus, the mural is a great icebreaker when pitching new projects. First we talk art, then we talk business. 😎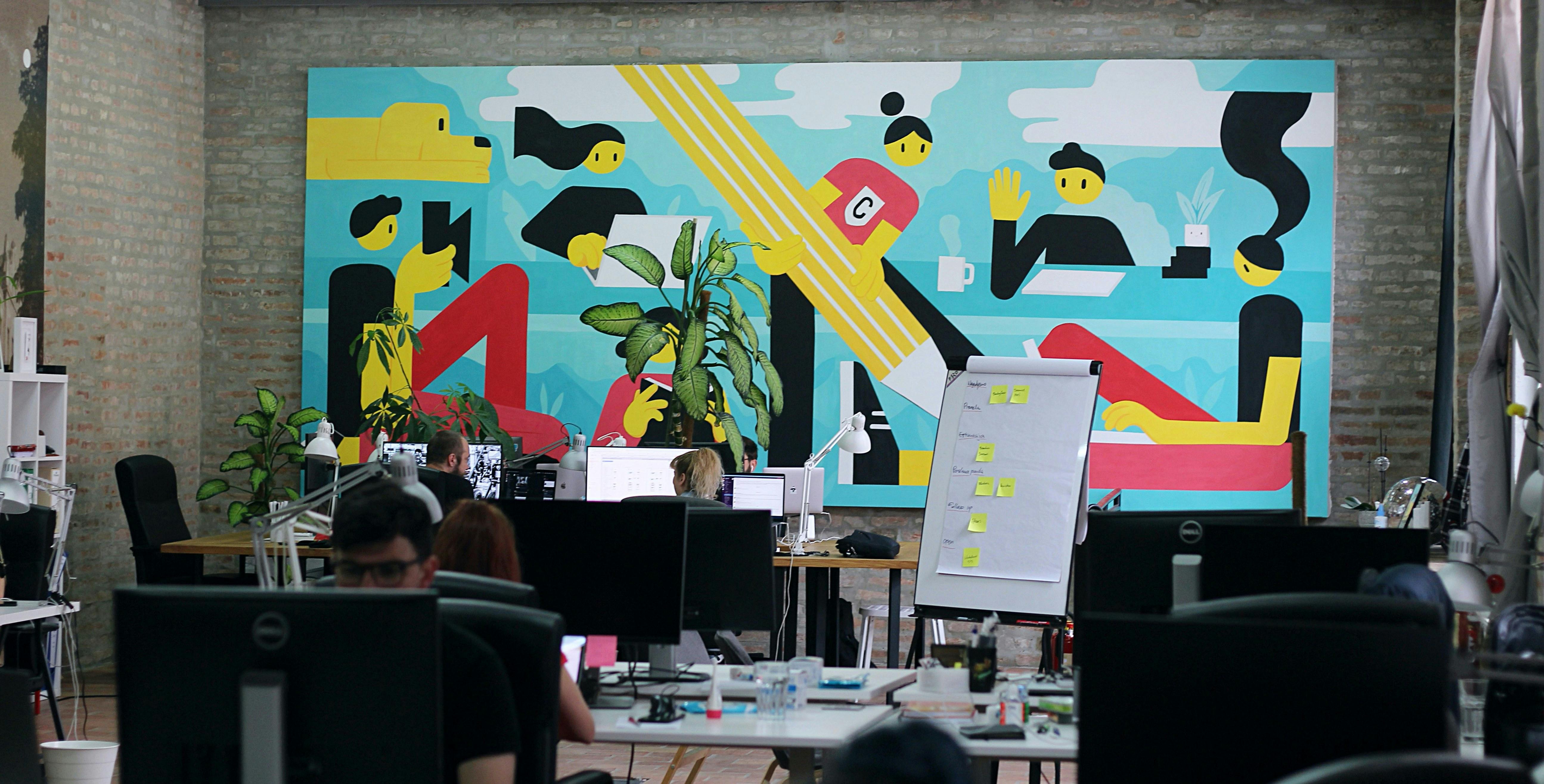 Seeing how happy the mural made our team, inspired us for even bigger things. But more on that later. Stay tuned.